Mobile phones are integral to the day to day running of your business, not just for verbal communications but business critical applications as well. Once more, if you or your workforce operate in tough conditions then it makes sense to invest in rugged phones and tablets to ensure productivity, minimise repair costs and down time.
In this article we'll look at some of the key features to consider and avoid if you're thinking of deploying rugged devices within your business.
So what is a rugged phone? The term rugged means – strongly made and capable of withstanding rough handling. And a phone means, well you know what that is! A rugged phone may also be classed as a 'tough phone' , a 'builder's phone' etc etc. Typically a rugged phone will have a toughened screen, be water and dust proof and have a robust chassis which will inevitably promote a strong and sometimes heavier form factor vs the usual smartphones you are used to seeing on the high street.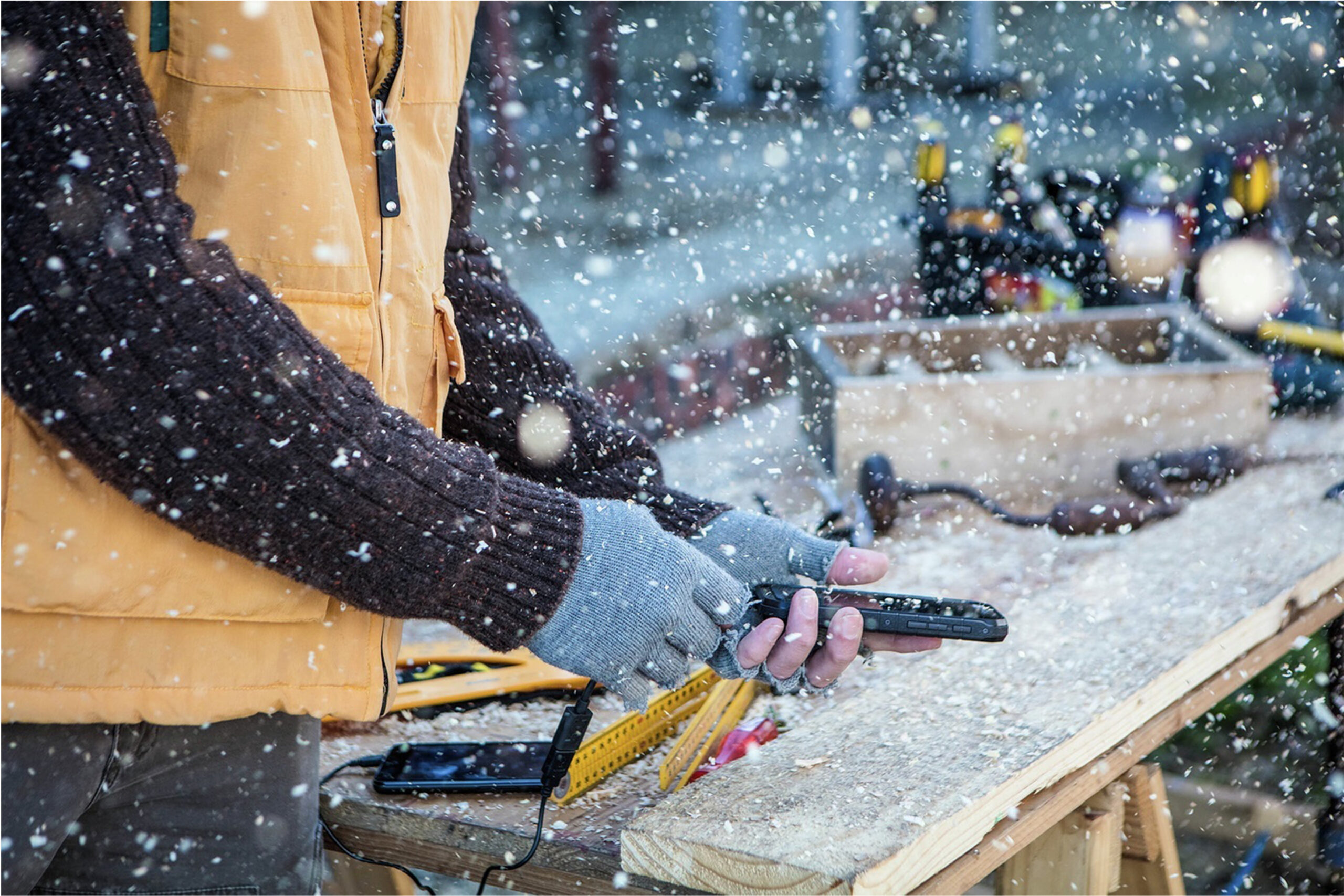 According to a study by Mintel ' 24% of people have broken their phones in the last 2 years' Once more a separate study suggests Britons spend £680 million fixing their smartphones each year.
Working remotely now more than ever is a regular occurrence and therefore its important your staff have a reliable phone.
Rugged phones should last longer and be able to operate in harsher conditions compared to non rugged phones that you are probably used to seeing. Once more, if your staff are working in hard conditions or the devices need to be cleaned with antibacterial spray or cloths regularly (or even both) a rugged phone should be perfect due to the robust, dustproof and waterproof nature of the devices.
Your business should also benefit by reducing (or hopefully removing) the downtime, cost and lack of contact when an employees mobile fails.
A good example of a rugged phone is the CAT rugged phone range. CAT or Caterpillar are more commonly associated with heavy plant machinery. But they noticed a gap in the market and entered the smart phone arena 6/7 years ago using their experience of working in demanding environments have created a wide range of basic and smartphones suitable to use in the harshest conditions.
All of their phones are drop tested from 1.8 meters onto concrete, can withstand thermal shocks and fine mist spray (plus submerged in water to 2meters). Also, their displays are all protected by the market leading Corning Gorilla Glass screens for additional protection against scratches, drops and scrapes.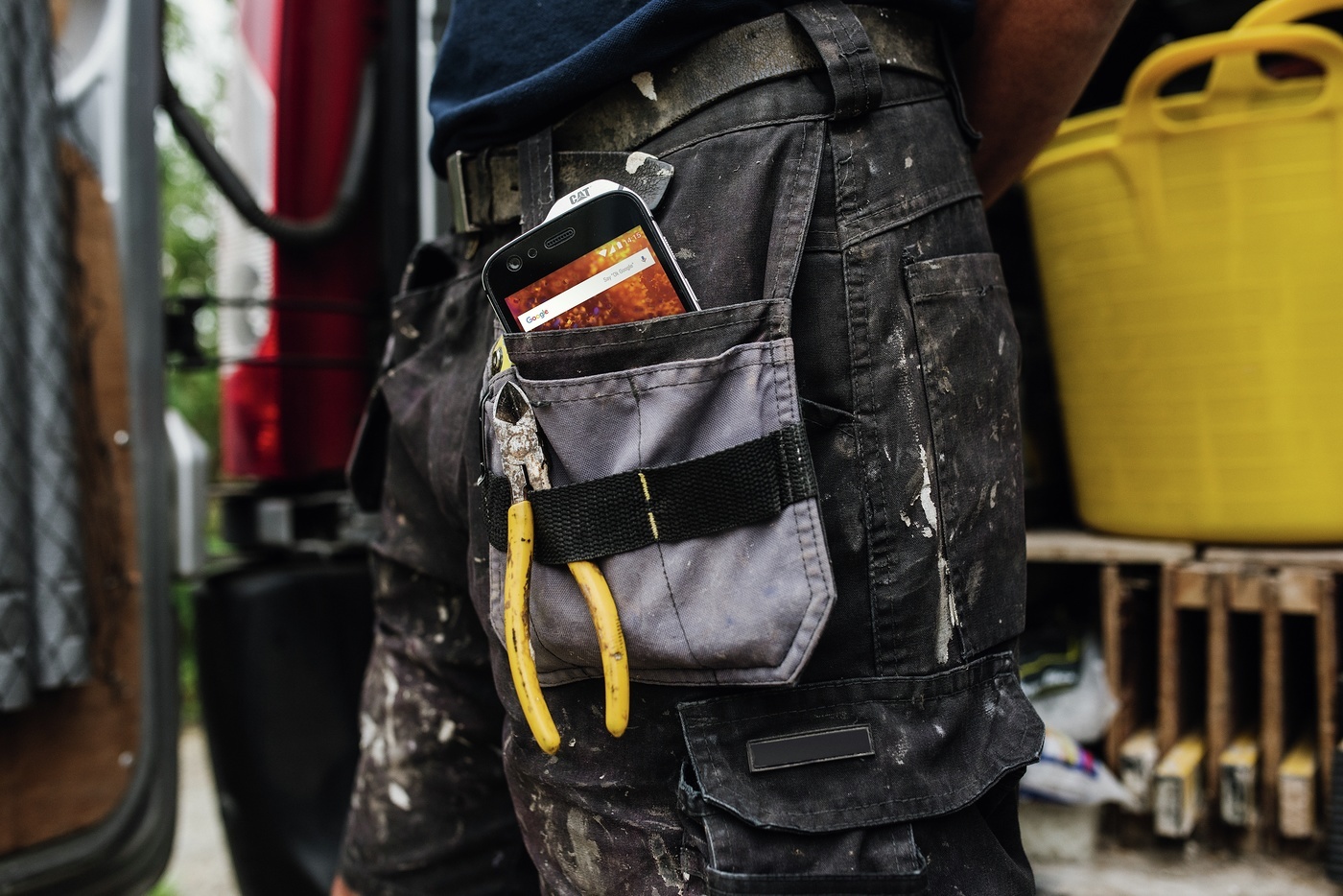 CAT is by no means the only manufacturer to offer rugged mobile phones. The likes of Energizer (yes the battery people) offer a range of entry level tough phones if you're on a budget.
Even Samsung is starting to release phones that are aimed towards the 'outdoor enthusiast' but it's important to consider the following if you are thinking of making a purchase. 
Make sure you understand the warranty – Although these devices are certainly tougher than your average smartphones, it's important to consider that in the event you break one, it's likely going to be a paid repair. Find out how you go about getting repairs, how long it takes etc. 

Warranty – As above how long does the warranty last and what exactly does it cover.

Android Enterprise Recommends – Make sure the device you are purchasing is part of the 'Android Enterprise Recommends' programme. This basically means the manufacturer have pledged to ensure that device is supported for 5 years from a security update and Android update perspective. This means you device is kept as secure as possible. 
All businesses can benefit from rugged phones. It will significantly reduce the risk of damage, the associated cost and downtime. Keeps your employees in contact and allows them to work more efficiently. Remember though, to check the warranty conditions, what it covers and how long it would take if you need to get the device repaired.
Linkit Communications have vast experience with rugged mobiles and have helped several clients choose and deploy rugged mobiles to their employees. If you think that a rugged phone would work for you, please get in touch via any of the methods below.
hello@linkitcommunications.com
01926 911291